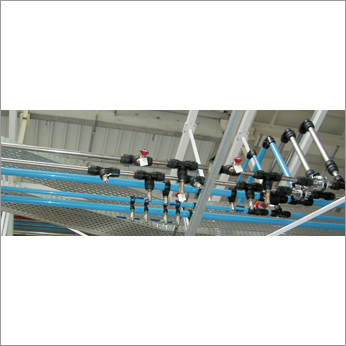 Inert Gases Aluminium Piping
Product Description
We are supplier,fabbricator, installer and solution provider of the world renowned aluminium pipe and "PUSH IN" fittings for RIGID ALUMINUM PIPES for compressed air and inert gases. Engineers have specified a variety of piping materials for compressed air systems, including black iron, galvanized steel, copper, stainless steel and even plastic. More recently, aluminum piping has become an option considered by the users. These are known for corrosion resistant, application specific design and no scaling of pipes & fittings. For inserting and removing pipe from fittings, no tools are required. Installation time comes down by 50% and it becomes very easy to modify the installation as the fittings can be re-opened by hand.
Aluminium pipes are an open-ended, modular concept for compressed air and inert gases supply and distribution. The clamping system allows quick and easy assembly (or disassembly).
The range extends from 15 mm to 160 mm OD.
"We are accepting local inquiries from Delhi and Delhi NCR."

Contact Us
181, Sector -16, Near Parley Factory, Bahadurgarh, Haryana, 124507, India
Phone :+918037303917